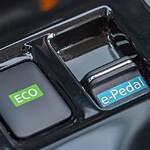 It's no wonder Nissan LEAF is an enormously popular EV. It is the car of our time, helping drivers to reduce their carbon footprint, protect the environment and minimize gas dependency. Nissan LEAF boasts many impressive benefits that have our Gillman Nissan Fort Bend team members talking nonstop. Here are two for your consideration.
Bye, Bye Gas Prices
Nissan LEAF is 100-percent electric and requires no gas. Cutting out your reliance on gas automatically puts money in your pocket and keeps harmful emissions out of the air. Plus, depending on the state you live in, just owning a Nissan LEAF entitles you to apply for and receive special state and Federal tax incentives.
Tune-Ups Be Gone
Nissan LEAF requires no tune-ups. Routine maintenance on traditional cars becomes necessary to reverse wear on their parts: spark plugs, fluids, belts, etc. Nissan LEAF has none of these parts, so there's less maintenance required and less fuss.
Feel the lightning power of Nissan LEAF for yourself. Visit our Fort Bend dealer today and take one for a test drive.