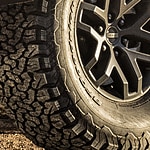 Have you purchased your first SUV or off-roading vehicle and are looking forward to going off-roading with friends? We at Gillman Nissan Fort Bend want you to be an informed driver and possess the knowledge on how to drive safely and take care of your vehicle. As much fun as it can be to go off-roading, the fun can be diminished quickly without the proper safety. Here are some off-roading tips.
•Take sufficient gear, such as fire extinguisher, extra clothes, first aid kit, winch, spare tires and jacks.
•Take along a map of our destination.
•Bring extra food and water.
•Don't ever go off-roading by yourself.
•Let someone know where you'll be.
Whether you're planning your first off-roading adventure or have been doing so for a while, it's important to make sure your vehicle is in good condition. Stop at our dealership in Rosenberg, and allow us to service your vehicle.